Beautiful Lakes in Tennessee: Nature's Serene Offerings
Tennessee, also known as the "Volunteer State," isn't just about country music and delicious southern cuisine. Mother Nature has painted undulating hills, lush forests, and stunning lakes in this place, making it a diverse and captivating destination. Why should the reader care about these lakes? Well, beyond the harmonious blend of landscapes, the top attractions in Tennessee include its breathtaking lakes. Whether you're a nature lover, a photographer, or just someone who likes a tranquil day by the water, Tennessee lakes have something unique and captivating to offer. Let's delve into a couple of them, shall we?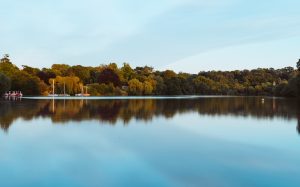 Lakes You Can't-Miss
Norris Lake: Often touted as the "Crown Jewel of Tennessee," Norris Lake is a reservoir shimmering with pristine blue waters. Spread across five counties, it offers over 800 miles of shoreline and abundant recreational opportunities. Fancy a bit of fishing? Norris Lake boasts more than just your run-of-the-mill catch; think walleye, striped bass, and even the aggressive smallmouth bass!
Percy Priest Lake: Located just outside Nashville, Percy Priest Lake is a hit among locals and tourists alike. Its proximity to the music city, its beautiful scenic views, and its myriad of water activities make it a top pick for a day out with family and friends. Remember the last time you went jet skiing? Relive that thrill here!
Cherokee Lake: Imagine a lake where the horizon seems endless, and sunrises paint the sky in hues of pink, purple, and gold. That's Cherokee Lake for you. A haven for birdwatchers, it's common to spot bald eagles soaring above or hear the rhythmic drumming of the woodpecker. And if camping under the stars is your thing, the lake's shores offer perfect spots to pitch a tent.
Reelfoot Lake: Early 1800s earthquakes formed this lake, demonstrating nature's power and beauty. With its cypress trees and unusual lily pads, this lake feels mystical. Oh, and did I mention it's a paradise for anglers? You might get lucky and catch a hefty bluegill or crappie!
ims Ford Lake: In southern Tennessee, Tims Ford Lake offers a peaceful getaway from city life. A hidden gem with clear waters for boating and fishing, it's worth exploring.
Conclusion
In a world often dominated by skyscrapers and urban jungles, the lakes in Tennessee offer a refreshing change. They whisper tales of history, showcase the brilliance of nature, and provide a peaceful sanctuary for both the mind and soul. Next time you're in the Volunteer State, make it a point to visit at least one of these natural wonders. Because sometimes, life's most profound moments are found in the quiet reflections of a tranquil lake.
Now, aren't these lakes calling out to you? It may be time to pack your bags and experience their charm firsthand! 
This article was written by Reelfoot Lake Duck Hunting Guide
View Best Duck & Goose Hunting Guides Tennessee in a full screen map
View Top Duck & Goose Hunting Guides near Tennessee in a full screen map
Reelfoot Lake Duck Hunting Guide
100 Blue Basin Rd, Tiptonville, TN 38079
(731) 588 4531