The Splendor of Tennessee's Nature: An Untouched Paradise
A certain magic envelops you as you tread the soil of Tennessee. It's where the whispers of ancient trees, the melodies of flowing waters, and the majesty of towering peaks come together in a symphony of natural beauty, showcasing the captivating essence of the state. Tennessee, a land that seamlessly marries the echoes of its musical heritage with the wonders of the natural world, boasts a plethora of beautiful lakes in Tennessee and landscapes that captivate, inspire, and rejuvenate. So, why should Tennessee be your next nature retreat? Let's wander through its green corridors, explore the beautiful lakes, and find out!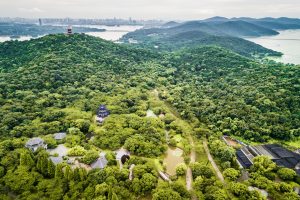 Nature's Masterpieces in Tennessee
Great Smoky Mountains: Often referred to as the "crown jewel" of Tennessee, the Great Smoky Mountains present a panorama of mist-covered peaks, dense forests, and wildflower-filled meadows. Whether catching the sunrise at Clingmans Dome or spotting black bears in Cades Cove, the Smokies promise an embrace of serenity.
Reelfoot Lake: Born from the fierce tremors of earthquakes, Reelfoot Lake is a testament to nature's artistic flair. Framed by cypress trees and adorned with floating lily pads, the lake offers a tranquil setting for bird-watching, fishing, or simply pondering life's mysteries.
Lookout Mountain: Hovering over Chattanooga, Lookout Mountain offers vistas that seem to stretch into eternity. Attractions like Ruby Falls, a cascading underground waterfall, and Rock City's mesmerizing rock formations beckon adventurers and dreamers alike.
Big South Fork National River and Recreation Area: Here, the Cumberland River carves its way through gorges, arches, and cliffs. This recreation area is a paradise for hikers, rafters, and horseback riders, showcasing the raw beauty of Tennessee's landscapes.
Ozone Falls: Nestled in a forested setting, Ozone Falls plunges 110 feet, creating a mystical pool below. It's a scene straight out of a fantasy novel, with the mist from the falls painting a dreamy aura.
Tennessee's Wildflower Blooms: As spring graces Tennessee, the state dons a vibrant cloak of wildflowers. From the Tennessee Coneflower's purple hues to the Trillium's delicate beauty, nature unveils a colorful spectacle. Trails like Gregory Bald in the Smokies are primarily known for their stunning azalea blooms.
Conclusion
Tennessee stands out as a mosaic of natural wonders in the tapestry of America's landscapes. From its misty mountains to its shimmering lakes and everything in between, the state offers a refuge for souls seeking nature's embrace. Each corner tells a tale of time, beauty, and the eternal dance of life.
So, when the wanderlust bug bites and your heart yearns for a touch of nature's magic, remember that Tennessee's doors are always open. Ready to explore?